Srdja (Serge) Trifkovic
Author, editor, professor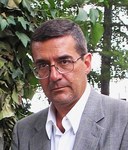 Prominent foreign affairs analyst in the realist tradition. Best-selling author, lecturer, and expert on world affairs whose work has been recognized by policy makers, media outlets, research and academic institutions.
PhD
in history,
University of Southampton
(UK).
BA (Hon) in international relations,

University of Sussex

(UK).
Foreign Affairs Editor of Chronicles: A Magazine of American Culture (since 1998) and Director of The Rockford Institute's Center for International Affairs. --

Write weekly online columns and a 2,000-word print edition monthly column, "The American Interest"; lecture and participate in conferences, summer and winter schools and other special events organized by the magazine and the Institute; provide expert commentary to media outlets.
Co-Founder and Executive Director, The Lord Byron Foundation for Balkan Studies

(LBF, s

ince October 1994) www.balkanstudies.org -- Cultivate, secure, and steward donors and philanthropic support and orchestrate international events, including over 60 symposia, conferences, and roundtable debates across 20 countries. Contribute to and edit the Foundation's quarterly newsletter, Byronica. Edited and contributed chapters to four collections of essays published by the Foundation.
Visiting Professor of politics and international relations at the University of Banja Luka (Bosnia-Herzegovina). Conduct four ten-day visits per semester to teach Theories of Decision-Making (master's program) and Introduction to International Relations, International Relations Theory, and Foreign Policy Analysis (undergraduate-level). IR lectures are being converted to a textbook, Introduction to IR Theory, to be published in Serbian in 2012.
Associate Editor, Columnist and U.S. Correspondent, Geopolitika (www.geopolitika.rs) Serbia's leading global affairs magazine (since 2001). Writing a regular 3,000-word monthly column for the print edition and additional online commentaries; taking part in conferences and special events on behalf of the magazine (2-3 times a year); providing liaison for the magazine with prospective foreign interlocutors and partners.
Author, among others, of The Sword of the Prophet - Islam: History, Theology, Impact on the World (over 70,000 copies sold since 2002), favorably reviewed by

The Times of India, The Washington Times, The Spectator (UK),

The American Conservative, The Orange County Register, Booklist, Investor's Business Daily, National Review Book Service, Chronicles, and the Conservative Book Club, among others. The companion volume, Defeating Jihad, was published in 2006.
TV appearances on CNN, CBC,

Russia Today

,

BBC

, the Ollie North Show (MSNBC), SkyNews, etc.
Speaking schedule in recent years included addressing audiences in Australia,

Austria

, Bosnia,

Canada

, the Czech Republic, Denmark, Germany, Great Britain,

India

, Ireland,

Israel

,

Italy

, Serbia,

Slovakia

, Ukraine, and all over the United States.
Earlier Career:
1996-98: Professor of International Studies at the University of St. Thomas in Houston, TX.

1993-95: Freelance journalist specializing in the former Yugoslavia

1

991-92: Visiting Scholar at the

Hoover Institution

on War, Revolution and Peace at Stanford, California, on a Title VIII grant from the U.S. Department of State.
1988-91: U.S. News & World Report Belgrade correspondent, stringer for The Washington Times.
1986-87: broadcaster with the

Voice of America

in Washington D.C.
1980-86: broadcaster and producer with the

BBC World Service

in London
Contact: trifkovic@netzero.net
| | |
| --- | --- |
| Consulting & Expert Testimonials | --- |
Expert Witness, The Hague Tribunal, ICTY, 2003 to 2008
Consultant,
President Kostunica of Yugoslavia, 2000 to 2001
Expert Witness, Canadian House of Commons, 2000
Expert Witness, U.S. House of Representatives, 2000
Consultant,
HRH Crown Prince Alexander Karadjordjevic, 1992 to 1993
| | |
| --- | --- |
| Book Publications, Chapter Contributions & Refereed Articles | |
"The Bosnian War."

Chapter in Joel Krieger (Ed.), The Oxford Companion to International Relations. Oxford and New York: Oxford University Press. Publication due January 2012.

"The Green Corridor: Implications of Islamic Geopolitical Designs in the Balkans," Ch 14 in Sarah N. Stern (Ed.), Saudi Arabia and the Global Islamic Terrorist Network: America and the West's Fatal Embrace. New York: Palgrave Macmillan, 2011.

ISBN 978-0230112087.

Ustaša: Croatian Fascism and European Politics, 1929-1945

. Chicago: The Lord Byron Foundation for Balkan Studies, 2011.

412pp.

ISBN 978-1892478016

.

Print.

The Krajina Chronicle: a History of Serbs in Croatia, Slavonia and Dalmatia

. Chicago: The Lord Byron Foundation for Balkan Studies, 2010.

247pp.

ISBN 978-1892478108.

Print.

Kosovo: the Score, 1999-2009.

Editor and chapter contributor. Washington D.C.: American Council for Kosovo, 2009.

181 pp. ISBN 978-1892478054.

Print.

Peace in the Promised Land: a Realist Scenario

. Editor and chapter contributor. Rockford, IL: Chronicles, 2006.

ISBN 978-0972061636.

Print.

Defeating Jihad: How the War on Terrorism Can Be Won, in Spite of Ourselves

. Boston, MA: Regina, 2006.

480 pp. ISBN

978-1928653264

.

Print.

The Sword of the Prophet: Islam, History, Theology, Impact on the World

. Boston, MA: Regina, 2002. 312 pp.

ISBN

978-1928653110.

Print.

"The Bosnian War"

Chapter. The Oxford Companion to Politics of the World

. Oxford and New York: Oxford University Press, 2001.

ISBN

978-0195117394.

Print.

"It Is Not Just the Balkans." Afterword. Kosovo under NATO. London and Ottawa: The Lord Byron Foundation for Balkan Studies, 2000.

ISBN 10: 1892478048.

Print.

"From Versailles to Kosovo." Introduction. The Kosovo Dossier: a Collection of Essays. London: The Lord Byron Foundation for Balkan Studies, 1999. ISBN

978-1892478030

. Print.

"Serbian Politics and U.S. Balkan Policy." Chapter. America's Intervention in the Balkans: a Collection of Essays. London: The Lord Byron Foundation for Balkan Studies, 1998.

ISBN

978-1882383078.

Print.

"Prince Paul Karadjordjevic." Chapter in Peter Radan (ed.) The Serbs and Their Leaders in the Twentieth Century. Aldershot, Singapore and Sydney: Ashgate, 1997.

pp. 158-202.

ISBN 978-1855218918.

Print.
"German-Italian Rivalry in Croatia, 1942-1943." The Historical Journal 36 (1993): 879-904. Print.

"Yugoslavia in Crisis: Europe and the Croatian Question 1939-41." European History Quarterly,

London

and New Delhi 1993. Print.

"Illiberal Political Culture Versus Market Economy." Serbian Studies,

Chicago

: University of Illinois, Vol. VI, No. 4 1992: 5-20. Print.

"The Yugoslav Crisis and the United States." Hoover Institution Working Papers. No. I-91-17, November 1991.Print

Croatia's Final Solution and the Axis

. Sydney, Australia: Macquarie University, 1991. Published lecture. Print.

"Yugoslavia: The Dilemma of Reform Amidst Political Turmoil." Transition: The Newsletter about Reforming Economies. Washington DC: The World Bank, Vol. 1, No. 8, November 1990, pp. 2-3. Print.
| | |
| --- | --- |
| Some Invited Lectures, Speeches, Presentations | |
The Twilight of the Empire.

The Rockford Institute lecture, New York, November 13, 2011.

The European Union and the Advent of Political Post-Christianity.

The 22nd Annual Meeting of The John Randolph Club, Fort Worth, TX, October 22, 2011.

The EU Policy in Kosovo.

The

Geopolitika

magazine symposium, Belgrade, Serbia, October 14, 2011.

Russia

and Germany: Beyond the Strategic Partnership. A Neo-Bismarckian Paradigm.

The E.U.-Russia Centre International Conference, Munich, Germany, September 15, 2011.

NATO after Libya.

International conference

Central Europe, the EU and the new Russia

at the Czech Parliament in Prague, August 29, 2011.

Surviving the Crisis.

The Media Center Roundtable, Belgrade, Serbia, May 24, 2011.

Balkan Myths vs. Balkan Realities.

ANZAC Memorial Lecture, Ingleside Social Club, NSW, Australia, May 2, 2010.

The Future of the Balkans.

T

he New South Wales ANZAC lecture, Sydney-Bonnyrigg Club, NSW, April 23, 2010.

Islam and the West.

27th Doctors for Disaster Preparedness convention, Denver, CO, August 2, 2009.

The Balkans: Rhetoric vs. Strategy.

The Faculty Club,

University of California-Berkeley, June 6, 2009.

The Dayton Agreement, 14 Years Later. Capitol Hill Club, Washington D.C. May 27, 2009.

Averting a New Balkan Crisis.

The Royal Canadian Military Institute, Toronto, May 22, 2009.

Europe's Powder Keg, Again?

University of Toronto Alumni Hall, May 22, 2009.

Resolving Kosovo.

Società Italiana per l'Organizzazione Internazionale, Rome, February 27, 2008.

Kosovo's Relevance to Kashmir. The United Service Institution of India, New Delhi, February 13, 2008.

A Disputed UDI.

Westminster Hall, London, January 17, 2008.

Regional Implications of Kosovo's UDI.

The Stefanik Institute, Bratislava, Slovakia, January 13, 2008.

Is Kosovo's Independence Inevitable?

Conference organized by the Centro Culturale Lepanto at the Chamber of Deputies of the Italian Parliament, Rome, January 10, 2008.

Implications of the U.S. Policy in the Balkans. Capitol Hill Club, Washington D.C. October 23, 2007.

Ex-Yugoslavia's Implications for Israel's Security. The Begin-Sadat (BESA) Center for Strategic Studies, Bar Ilan University, September 11, 2007.

The Holy Land's Balkan Parallels.

The Rothberg International School roundtable, Hebrew University at Mt. Scopus, May 3, 2007.

Israel

and Serbia: Under a Common Threat.

T

he Harry Truman Institute at

The

Hebrew

University – Jerusalem, April 30, 2007.

The Holocaust in Croatia, 1941-1945. Keynote address: Yad Vashem Center, Jerusalem, June 15, 2006.

The Balkans and the Terrorist Threat.

The Senate House, University of London, January 28, 2005.